They are the three words that are most commonly associated with what we do at Color Reflections Las Vegas, but outside of our industry, most people don't really know what they entail.
Large.
Format.
Printing.
What exactly is large format printing? On the surface, describing it seems simple enough. We print things. Big things. Like really big.
But being a large format printer is much more than just producing billboard-sized advertisements for highway signs. In fact, you can find examples of large format printing just about everywhere.
Some are blatantly obvious, such as a huge banner draped down the side of a building, or a vehicle wrap, or a massive barricade graphic covering a lengthy construction wall and hyping what's being built behind it. Size is no longer an obstacle in today's world of high-resolution imaging and the precision of today's technology.
Some are more conspicuous, like brand messaging placed on the outer panels of elevators and escalators, or banners hung from and across street posts promoting citywide events. But large format printing is everywhere. If there's a space where a brand can benefit from displaying its message, there's a large format printing job ready to conquer it. If you can dream it, we can create it.
Of course, there are often multiple spaces where one brand can display its messaging effectively, such as a trade show, where convention booths are often composed of massive configurations to maximize the space and messaging. This is especially true in Las Vegas, the top trade-show destination in the world. It's easy to see several examples of large format printing in one company booth, including hanging headers and overhead banners, retractable stands and sign displays, wall and floor graphics, directional signs, posters, flags, brochures and more.
Experiential graphics are also a common request for a large format printer. You'll find these throughout exhibits, such as the one we helped create at Springs Preserve. Walls and walls of information creatively displayed around the concourse of the exhibit that improve a user's experience.
Basically, when size matters, so does finding the right large format printing service. But making the most of your square footage of ad space is only just the beginning. There are several other key components to ensuring every large format printing job is a success.
EQUIPMENT
When you're an architect designing a blueprint for a commercial center, you don't use an Etch-A-Sketch. And when you're printing huge images that can be seen for miles, you aren't using the standard copier you find at Office Depot.
At Color Reflections Las Vegas, we have some of the biggest and baddest printers ever made, and we're always upgrading with the newest machines available on the market, to handle every possible client need.
In fact, we think our machines are so cool that we'd like to invite you to see them in person:
If you're serious about your digital imaging, tell us about your company needs here and we'll see how we can help. If you are a potential new customer, or one of our existing clients, CEO Joe Castellano would love to show you around. You'll take a tour of our incredible state-of-the-art facility and go behind-the-scenes and see how we produce large format graphics, including up-close-and-personal looks at our cutting-edge equipment, and meet the people behind our amazing work.
There is no cost to take the tour. We just want you to judge for yourself why Color Reflections Las Vegas stands out from the rest of the print providers.
MATERIALS
This is the "format" element to large format printing. Choosing the right materials based on where a client message is going can be just as important as what's printed on it.
As a large format printer, it's important that we can provide clients with the most durable and cost-effective options for their needs. For an outdoor display such as a wall graphic or banner hanging from a building, we might suggest a mesh vinyl material that can allow the wind to pass through, but also withstand the elements while maintaining the integrity of the print.
If a client is expecting lots of flash photography on its display (such as a step-and-repeat banner at any red carpet-style event), we'd recommend a glare-free fabric.
The real fun begins when we are faced with a custom fabrication. We can print on virtually any surface, from wood, steel and other metals, to plastic, glass or Coroplast (a popular corrugated plastic sign board). We can bring virtually any vision to life!
PRINTING PROCESS
OK, we've got the machines. We've got the materials. We've got the work force. So … how does it all come together?
The next step is to take the size, shape and design of the print and program all of the dimensions to guarantee that your job will be done accurately. The printer will spray the ink to match your exact specifications.
Drying is quick and easy, thanks to UV lighting. Generally, as soon as your print is complete, it's ready to be displayed. However, there's one more important step.
INSTALLATIONS
You've got this cool massive display ready to go. Now what?
Printing and assembling huge banners and custom graphics is one thing. Hanging them from the side of a building, however, or constructing a trade-show booth display … well, that's an entirely different beast altogether.
Installation services are a big part of who we are at Color Reflections Las Vegas. Along with the big projects, we also install signs, banners and graphics at retail locations, businesses, and of course, Las Vegas conventions, where many of our trade-show graphics are visible.
We make sure everything is packed and shipped properly, and unpacked with the same care. We assemble everything and ensure it's safely in place, whether you're talking about wraps for a fleet of buses, back-lit signage, vinyl lettering, or an entire trade-show booth arrangement.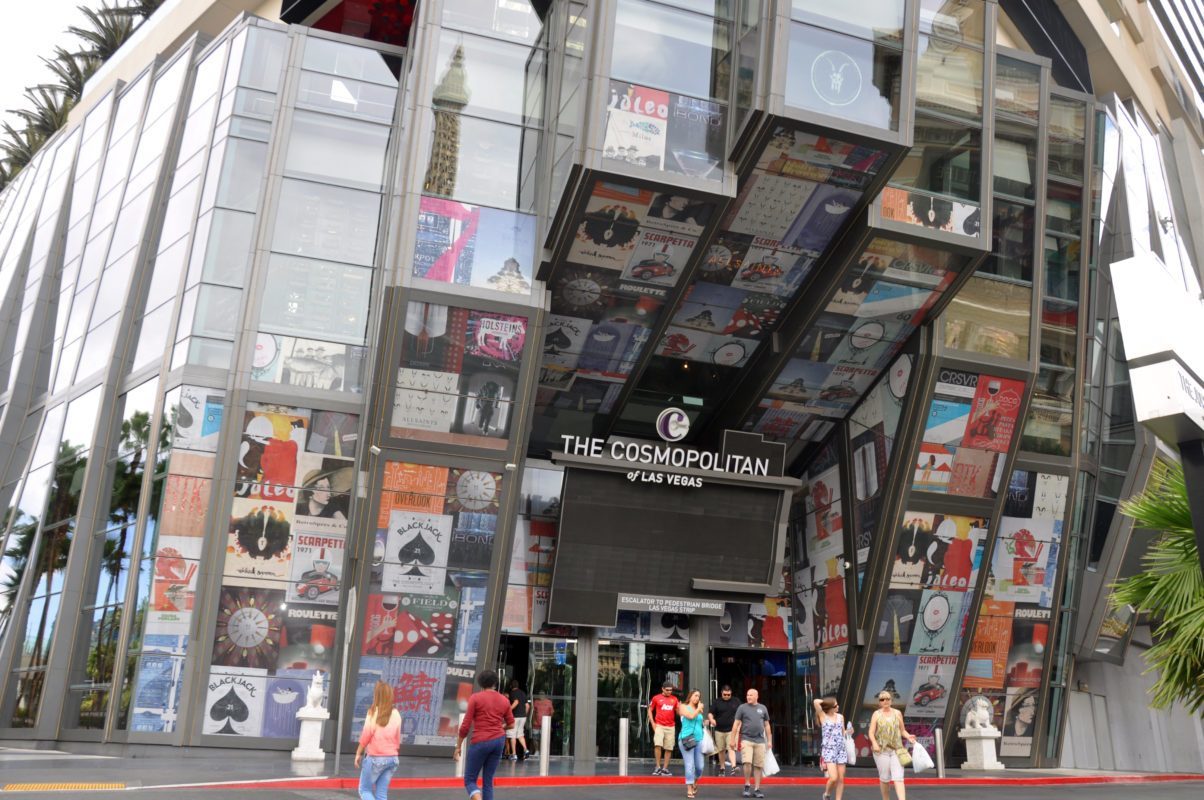 When it comes to your next large format printing job, we've got you covered every step of the way. Color Reflections Las Vegas has the equipment, the materials, and the know-how to tackle any job of any size.
Speaking of huge large format printing displays, it's almost that time again … the Consumer Electronics Show returns to Las Vegas in early January, and with it, more than 4,500 exhibitors showing off their product and brand to 180,000 attendees. The Las Vegas Convention Center and Sands Convention Center are loaded with huge trade show displays, many of which will be facilitated by #CRVegas.
Stay tuned for more on #CES2020, including coverage right here on our blog following the show. In the meantime, be sure to peruse our website for more details on our large format printing services and specifically, what we can make into reality for you.
If you can picture it, we can create it. Tell us your idea and we'll give you a quote and talk about your project. Make Color Reflections Las Vegas your first choice for all of your digital printing needs.
When it comes to large format printing that makes your brand stand out … We're in it to print it!