Picture it: Your brand, hanging proudly, draped down the side of a huge building. Seen from miles away. Announcing your presence in the coolest way you could ever have imagined.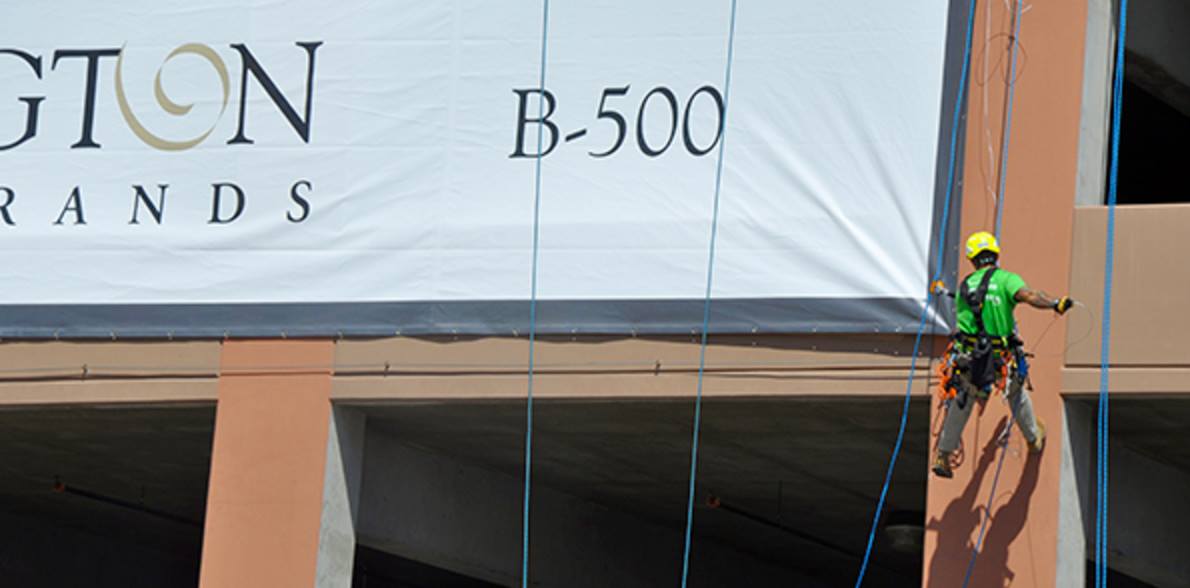 It all started by coming up with a message. That was easy, because you know your brand. Then, you worked with a large-format printer, and … since you wanted it to be amazing and absolutely perfect, you chose Color Reflections Las Vegas. (Good call, by the way).
Now it's being printed and the thought hits you … how are you going to get that massive banner on the side of that building!
Fortunately, you'll never have to worry about that with #CRVegas. Installation services are a big part of the process and one we are well-equipped to handle, whether it's hanging a banner down a building, putting together a trade-show booth display, or wrapping vinyl on a fleet of
buses. Our job isn't done until your message is ready for prime time, visible to your customers … no matter what form of brand advertisement you've created.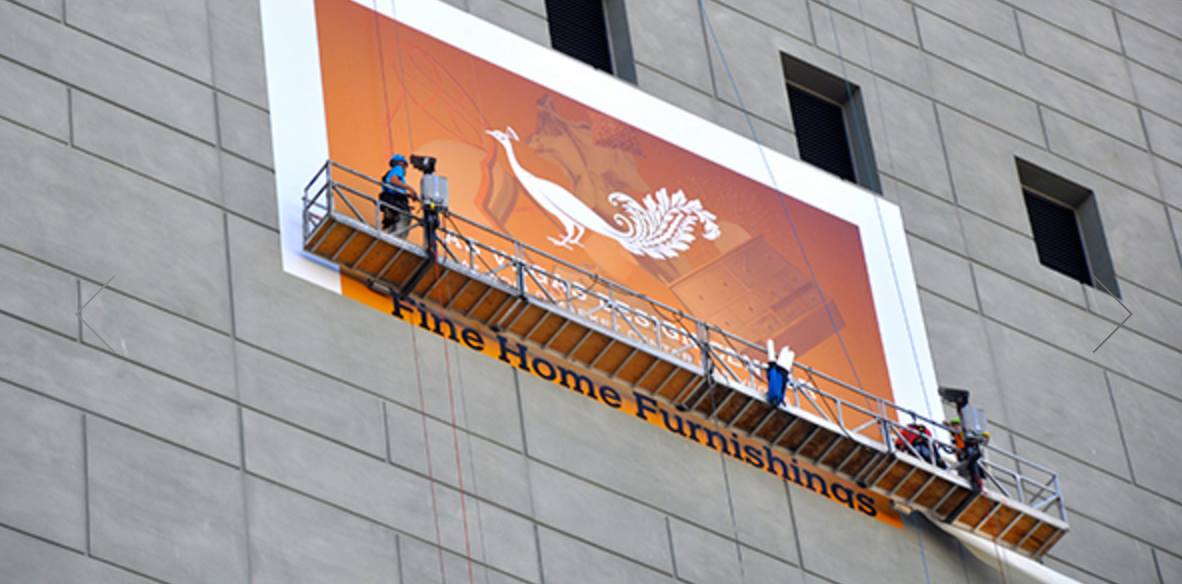 Installation is a part of our DNA. First, we'll inspect the site to ensure that everything you need is there to build, place and show off your message.
Next, we'll make sure your product arrives safely for installation. Our shipping team carefully checks, packages and ships your work to ensure it arrives in pristine condition. 
Then, our experts will go to work to construct or create your display to perfection, taking into consideration all of the potential pitfalls. Each install presents its own unique challenges.
Let's take a vehicle wrap, for example. Forget that it's tricky enough getting everything placed just right not to impede the vehicle's ability to be operated. The curves, the door handles, the windows … all need to be worked around just right. But that's just the beginning.
There's another huge variable that can cause issues and take away the impact of your message, if not addressed properly beforehand: Weather.
The vinyl wrap film will react and adapt based on the temperature of the vehicle when applied, and can easily become too rigid or too soft, depending on whether the temperature is too hot or too cold. If the temperate conditions aren't ideal, that could also have an impact on how the vinyl bonds and adheres to the surface of the vehicle, whether it's a car, bus, or van. For example, if the vehicle's metal exterior is too hot, the material can be stretched irregularly, and that can cause variations in the color in those areas.
To ensure that the winter cold and summer heat of Las Vegas don't impact the application of the wrap, the vehicles are kept in a temperature-controlled space as the wraps are applied.
Looking to make your trade-show booth stand out? We have several ways to help you make it happen. You can wow your visitors with a portable display solution or a fabric structure, such as an exhibit back wall or exhibit kit. Or construct a hanging sign that makes your booth easily identifiable on the show floor concourse.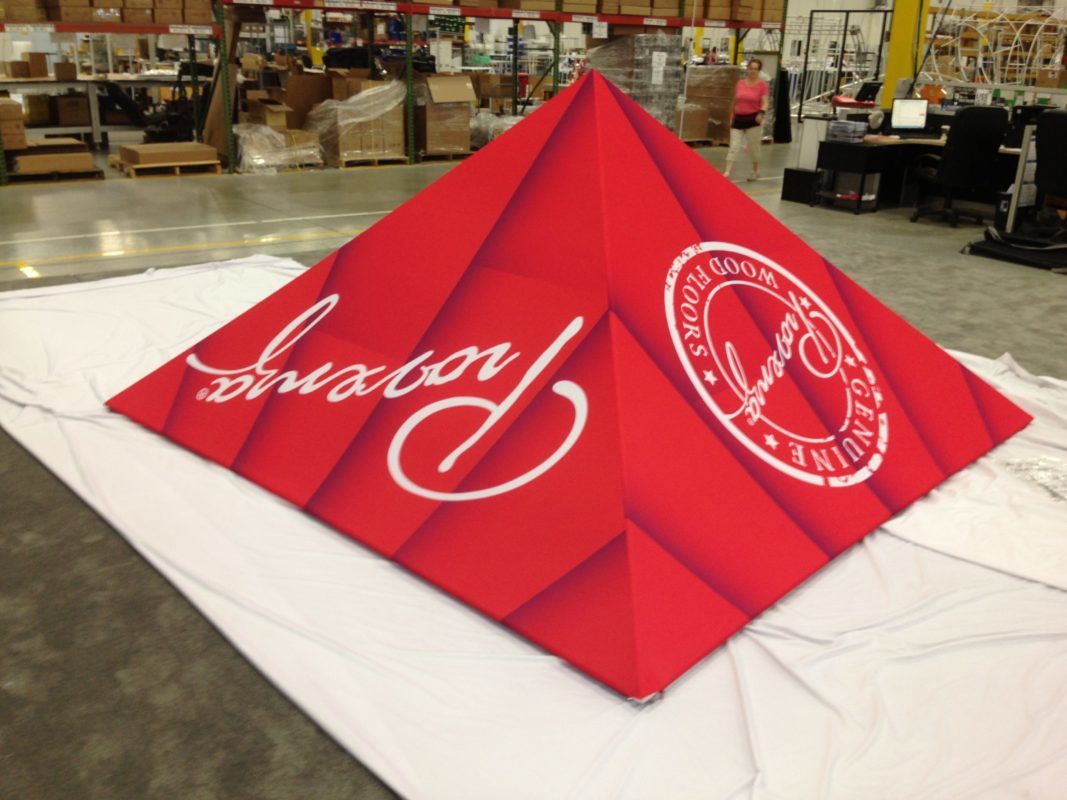 When you need trade show hardware, we can help you choose what you need, and then build it on-site to the necessary specifications.
Examples of these include:
Banner stands
Outdoor products
Teardrop and feather flags
Backwalls and info centers
Vector frames and tension fabric walls and exhibits
Pop up tension fabric display systems
Pop up displays and cases
Folding display panels
Orbital express truss displays
Kiosks
Counters
Display additions
Literature racks
Cases and crates
Display lighting

No matter what your display needs are, leave the installation to the pros at Color Reflections Las Vegas. We'll hang banners from skyscrapers, assemble wall graphics and window graphics, and even ensure your floor graphics are flawless.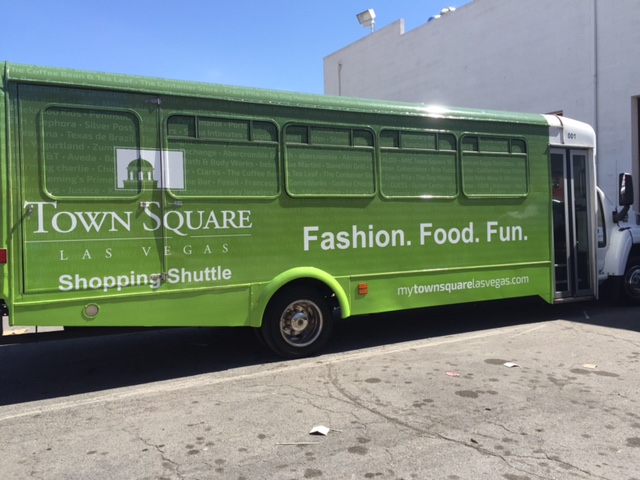 Here's a timelapse video of our wall-graphic assembling team in action, to show you exactly how much care we put into each and every install.
We deliver, every time. Still can't decide what display is right for you? Not to worry. Simply fill out our online form with some basic information and one of our sales pros will get back to you and help you determine which is the most effective and cost-efficient way to display your brand message.
Then, just leave the rest to us. Unlike banners draped from tall buildings, we'll never leave you hanging. From start to finish, #CRVegas is built to get the job done right every time.