It's that time of year, time to practice your toast and dig out those swanky shoes from the back of your closet, the ones that pinch your toes, but look so good with everything. You're going to need them because, after two years of rolling lockdowns that led to many wedding cancellations and postponements, 2022 is shaping up to be a banner year for weddings. And speaking of banners… If you're a wedding planner, you already know that when it comes to weddings, your best friend is the printing company.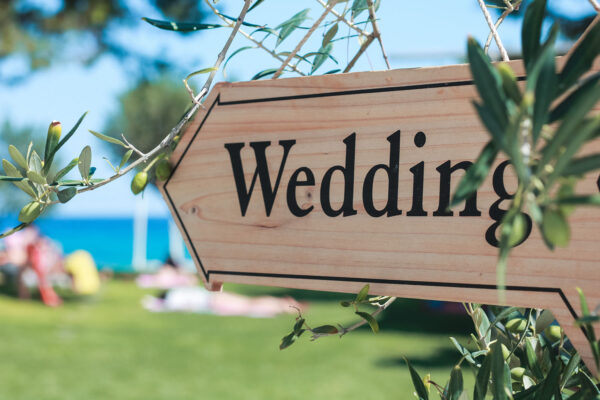 Wedding planners know an important function the printing company provides is the creation of wedding invitations, but your wedding printer can also help you achieve a successful event, by creating custom wedding event printing. Wall graphics to help wedding guests navigate the venue, party graphics to highlight various key elements at the reception, and floor graphics to direct wedding guests to where they will be sitting. When it comes to event graphics, your wedding printer can help make the difference between a ho-hum celebration and a happy one.
Guest Arrival Experience
Directions and Parking Signs at the Wedding Ceremony and Reception
Many of us have been there. We unknowingly park too far from the entrance of the wedding venue and end up trudging through a field in our fancy shoes, hoping the carefully wrapped stand mixer we got for the wedding couple won't get splattered with mud. Utilizing effective graphics can help you make sure the wedding guests arrive happy (and mud-free). Your wedding printer can craft signage for prominent display along the road and as guests drive into the wedding venue, ensuring a smooth arrival for your wedding guests.
Another printing option that assists with the guests arrival are colorful feather flags. Sturdy double-sided yard signs and A-frames can guide guests to a designated parking lot or to the valet parking. Roll-up signs at the entrance can showcase a map of the venue and/or a wedding schedule to inform guests about key details of the celebration such as the pre-dinner cocktail area and time.
Direction signs can also reflect the couple's wedding colors and/or sport sassy slogans or sayings that the couple is known for. Wedding guests will have a good chuckle as they look forward to the upcoming festivities.
And at the end of the night, glow-in-the-dark signs and/or well-lit stand-up signs can guide guests back to their parking spots.
Navigation at the Wedding Ceremony and Reception
There are a variety of options when it comes to prominent signage at the venue for both the ceremony and/or the wedding reception. Custom sidewalk graphics and/or floor decals can help guide guests in the right direction. How about decals of the couple's side-by-side footprints leading up to the front entrance of the wedding venue? You can also talk to your wedding printer about creating color-coded decals and signs to help guide guests throughout the venue.
 As wedding guests walk into the reception hall, they can be greeted by a custom welcome banner showcasing the couple's theme and colors. This can also be a wonderful spot for the wedding couple and bridal party to greet their guests.
The pandemic influenced several wedding trends including the big-tent, outdoor wedding complete with outdoor signage including stand-ups, A-frames, and "signicades" along with a greeting tent where wedding guests can meet and mingle. Couples can purchase a custom tent printed with their theme or colors and use it again in the future for a wedding anniversary party in their backyard.
Custom Printing Options for Weddings
The Wedding Seating Chart and Event Agenda
A wedding seating chart at the entrance of the reception venue not only informs guests where they will be sitting, it also allows them to see who the other guests are and offers a greeting hub where guests can exchange pleasantries as they peruse the seating chart. A prominent wedding agenda placed beside the seating chart can also give people an idea of what the evening's events will be and the times they will take place.
Your wedding printer can design a seating chart and agenda infused with the couple's wedding theme colors. The seating chart and agenda can be displayed on standing easels, or foam boards on a table at the entrance of the venue.
Custom Table Settings, Table Covers, and Table Signs
Your wedding printer can design a custom table cover with a beautiful design or motif that reflects the couple's theme and colors. How about a unique table runner for each table printed with the couple's wedding vows? Not only will it offer a beautiful visual statement, but it can also be given away or "raffled" off as a wedding door prize for one lucky guest at each table in addition to the flower vase or table arrangement. Printers can also supply custom name cards at each table setting or paper "chair covers" or "sashes" can also be used in place of name cards.
Food Signage at the Wedding Dinner
In addition to printing menus for the wedding guests, your wedding printer can create signs with alerts for potential food allergies or sensitivities. On the flip side, table-top signs can let guests know about other food options or alternatives available (i.e., gluten-free, dairy-free, soy-free, nut-free, vegan, etc.). In the case of a buffet reception, table-top signs can be placed in front of the serving dishes on each table to let the guests know the meal choices. Hanging signs above the serving dishes can offer greater visibility as well.
Custom Wedding Photo Displays and Photo Booths
A "step-and-repeat" photo booth can inspire guests to capture candid photos they can keep as mementos and/or leave for the couple, perhaps with a lovely note (with custom note paper and pens provided by your wedding printer).
The printing company can also create life-size standees of the couple from their childhood along with a collage of poster-size pics of memorable photos with family and friends or a unique montage of the couple's courtship, creating a sweet and sentimental display where family and friends can gather and reminisce.
Custom Boxes and Signs for the Wedding Gift

 Table

Your printing company can design special table-top signs, standing signs, or flags informing guests where they can leave their wedding gift. The printer can also create a special box or a "well" for gift cards and/or monetary gifts.
Custom Wedding Guest Book
Your printing company can create a custom wedding guest book that incorporates the wedding theme. The book can be placed on a podium next to the gift table along with a standing sign so that guests can offer their congratulations as the wedding winds down.
Custom Wedding Favors or Goodie Bags
Don't forget the "goodie bag" table set up for wedding guests at the end of the evening. Your printer can create a wonderful selection of custom gift bags or gift boxes decorated in the theme and colors of the couple. Your wedding printer can offer a wide selection of "goodies" including chocolate truffles, candles, shot glasses, key chains, or a framed picture of the wedding couple.
Working With Your Wedding Printer and Graphic Designer
Wedding Themes, Photos, and Graphics
Many wedding printers offer graphic design services along with their printing services, helping to ensure the vision of the bridal couple comes to life on their special day.
From designing the bridal couple's special website, to creating the invitations, to the visual and graphic design elements for the special day – the wedding printer can help the process run smoothly.
A printing company with an in-house graphic designer can work with the wedding planner and the wedding couple right from the start — this can include designing the logo or motif that reflects the couple's spirit— whether it's hearts and flowers for traditional romantics or hockey sticks and pucks for sports-lovers. Working with the in-house graphic designer will also help ensure that every graphic element and motif flows together and incorporates the bridal theme including the color palette and font style.
Your wedding printer and in-house graphic designer can work with the wedding photographer to incorporate special images that reflect the romantic journey of the wedding couple.
Your printing company will go over everything you will need to supply their graphic designer in terms of "specs" i.e., image resolution for the website, email invitations, or printed images and/or graphics. Keep in mind the range required can go from 150 DPI (dots per inch) minimum to 300 DPI for high-quality resolution. So, if you plan on a life-size standee of the bridal couple you will need to consider using an HD Camera or making sure the photographer knows all the images and specs you will need to give the graphic designer at the printing house. And remember to inquire about the license/rights for the images from the photographer that you will need for the printed elements and website elements.
Timeline and To-Do List
With an upcoming busy wedding season, make sure to contact your wedding printer as early as possible and book a session with their in-house graphic designer as you select your theme and choose the visual concept for the wedding that will be reflected in the website, invitations, and all the pertinent signage options and graphic assets for the wedding day. As you organize and plan your timeline, make sure that you know your turn-around times for all the elements you will need to order. For example — guest goodie bags should be ordered at least a month in advance.
With so many options to choose from, it's smart to use your printer's in-house graphic designer for all your needs, including theme selection, wedding website, invitations, party favors, photo exhibits, and signage. Your wedding printer can be a one-stop shop for wedding planners when it comes to making the wedding a day to remember.
Color Reflections offers everything you need for wedding and party printing services as well as other special event graphics. Don't know exactly what you need? Our expert team will work with you to help you find the best printing and graphics solutions. We also offer quick delivery and installation services anywhere in the country. Contact us today!